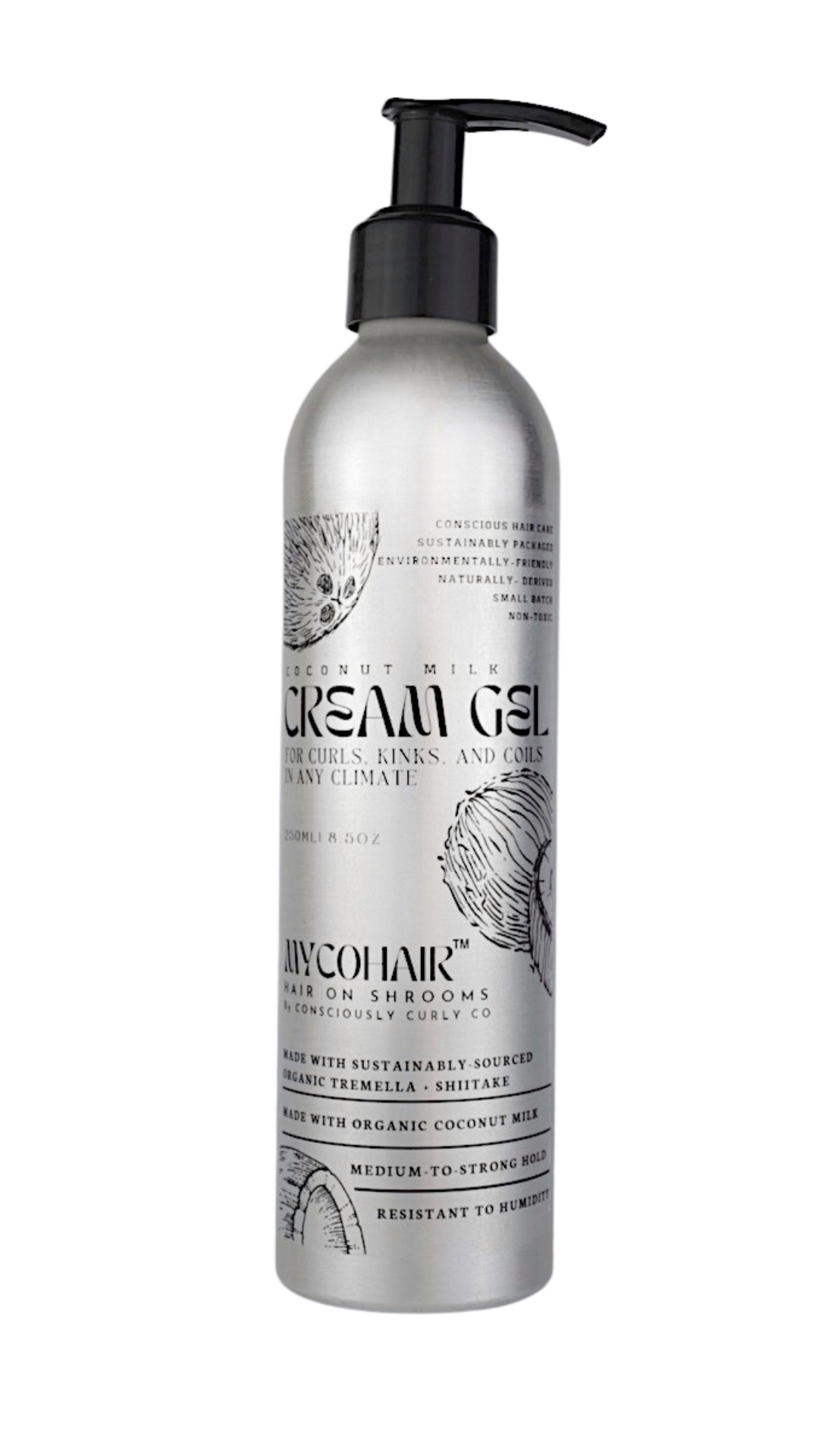 Tame and nourish your curls with Coconut Milk Cream Gel, featuring a blend of natural ingredients like coconut milk, kokum butter, flaxseed gel, okra gel, shiitake extract, and tremella extract. This rich gel provides strong hold and anti-frizz protection, locking in moisture and preventing frizz, so your curls stay soft and manageable -- even in humid conditions! Perfect for curly or coily hair, Coconut Milk Cream Gel keeps your locks looking beautiful.
Apply to wet hair. Style as preferred. We recommend using our leave-in conditioner and/or a curl cream with the cream gel. 
Not for internal use. Avoid getting in your eyes. Flush immediately if you get into your eye. 
Store in a cool place out of sunlight.
Kokum butter has moisturizing and healing properties that restore shine and boost hair elasticity by forming a protective barrier thanks to its rich vitamin E content. It helps reduce breakage, repairs hair damage and minimizes frizzy and dry hair.
Coconut Milk restores dry hair and naturally conditions it. It also nourishes hair, protecting it from damage. It's richness of fatty acids, amino acids, and vitamins make it beneficial for all hair types, especially those needing extra moisture. 

Tucuma butter revives damaged hair. It is light, fluffy, and non-comedogenic. Its high content of polyphenols fight free radicals to help retain elasticity. Its fatty acid content increases moisture levels and softness and adds shine to the strands. High amounts of vitamin A also contribute to a healthy, supple, oil-producing scalp for hair growth and length retention. Tucuma butter is an excellent choice for damaged hair in need of restructuring and stabilizing.

ECOCert-approved and a USDA Certified 100% Biobased, naturally derived silicone-ALTERNATIVE that is inherently biodegradable reduces frizz and keeps hair frizz-free, protects hair from color degradation, helps seal down cuticles and restores more natural structure of hair, provides heat protection and prevents damage from heat appliances, Improves elasticity, strengthens the hair and prevents breakage. This is not a silicone- it's a clean, green alternative to silicones. 

Okra extract naturally conditions, and moisturizes the hair. It also smooths the cuticle and fights frizz. It improves the shine and manageability of the hair. Okra gel is extremely hydrating and can boost the overall moisture content of natural hair. As a result, it can improve dry, dull-looking natural hair and boost its overall appearance. It's also amazing at defining curls.
Flaxseed extract helps curls to clump and provides definition. It is rich with nutrients that our hair thrives with. It contains omega fatty acids, vitamin B, and vitamin E, which plays a protective role against free radical damage, promoting a healthy scalp and follicles to maximize hair growth. Because flaxseed is good at binding moisture to the hair, this reduces breakage and split ends. Not only does this improve elasticity but it also prevents it from breaking further.


Distilled water / Aqua, *Abelmoschus Esculentus (Okra) Fruit Extract, *Linum Usitatissimum (Flax) Seed Extract, Maltodextrin / VP copolymer, Emulsifying Wax, Cetearyl Alcohol (and) Behentrimonium Methosulfate, **Garcinia Indica Seed (Kokum) Butter, *Coconut Milk, C13-15 Alkane (Plant-derived), Phenoxyethanol (and) Caprylyl Glycol (and) Sorbic Acid, **Astrocaryum Tucuma Seed Butter, Hydrogenated Ethylhexyl Olivate, Hydrogenated Olive Oil*Mushroom Blend (*Tremella Fuciformis Sporocarp Extract, *Lentinus Edodes (Shiitake) Extract), Clean Fragrance Oil, Propanediol, Citric Acid,  Polyquaternium 10, *Citrus Aurantifolia (Lime) Oil, Sodium Phytate.
This gel comes in an aluminum bottle. The pump dispenser is plastic. 
If dropped, the bottle may dent, but will not shatter. 
The bottle may be slippery when wet.
The tip of the pump may be considered as sharp by some.
To order a refill, simply select "refill" in the choice dropdown.
Hold on to your dispenser. 
We will send you an 8 oz aluminum bottle with an aluminum lid.
Preserved with a non-toxic, paraben-free, formaldehyde-free, phthalate-free preservation system.
Use within 6 months of opening. 
Pump water through your pump dispenser to clear out the product.
Keep your pump and order a refill in the choice dropdown. 
Remove label(s) and place in the trash.  
Wash out any residue in the aluminum bullet with soap.   
Place the aluminum bullet in aluminum recycling.
✔️ Cruelty-free; Never tested on animals.
✔️ Non-toxic
✔️ Mica + Titanium Dioxide-free 
✔️ Artificial Color-free
✔️ Naturally-derived
✔️ Low-impact
✔️ Refillable
✔️ Made in small batches
✔️ Biodegradable
✔️ Paraben-Free
✔️ Phthalate-Free
✔️ Formaldehyde-free
✔️ Sulfate Free
✔️ Silicone Free
✔️ Petroleum-free
✔️ Ethanol-free (drying alcohols) 
Orders typically ship within 3-5 business days, unless otherwise noted. 
See our shipping policy here for more information. 
This statement has not been evaluated by the Food and Drug Administration. This product is not intended to diagnose, treat, cure, or prevent any disease. If you have any irritations in response to using these products, stop immediately, and see a medical professional to determine if you have a sensitivity or allergy.