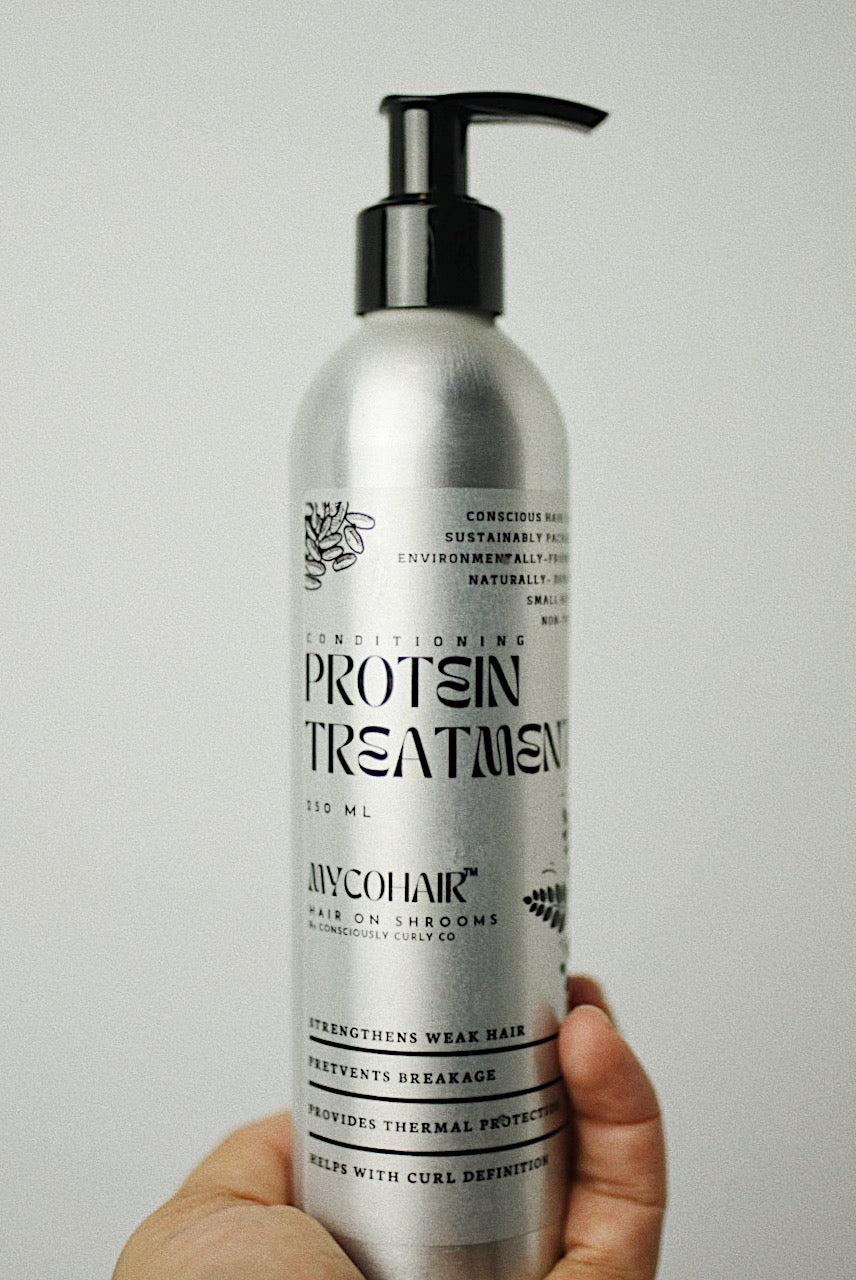 Conditioning Protein Treatment
Give your curls a boost with our Conditioning Protein Treatment! Featuring a powerful blend of barley, oat, and hemp proteins, this treatment strengthens and conditions each strand of hair, reducing breakage and restoring balance. Perfect for high porosity, highlighted, and curly hair, this treatment will help you show off your beautiful locks. Try it today!
Apply to soaking wet hair, in sections. Allow to sit for 15-20 minutes. For best results, implement steam.
Follow with deep conditioner for best results.

Not for internal use. Avoid getting in your eyes. Flush immediately if you get into your eye. 
Store in a cool place out of sunlight.

Plant-Based Keratin is a vegetable alternative to animal keratin. It increases hair strength, enhances elasticity, helps protect hair from harsh salon processes, makes hair look more healthy and shiny, and improves the comb-ability of hair. Keratin is a protein composed of 18 amino acids. It is one of the primary structural components of hair, nails, and the epidermis. Keratin keeps hair healthy and lessens damage.
 Oat Protein - Studies have shown that hydrolyzed oats retain significantly more moisture at all humidities, gaining up to 50% more moisture at relative low humidity when added moisture is most needed.
Hemp Protein strengthens hair to protect from damage, increases elasticity for healthier & more resilient hair, and smooths hair after chemical damage. Our Hemp Protein is a plant-derived, soluble form of Hemp protein from the seed of the Cannabis Sativa plant. Hemp is a natural, sustainable & organic source, gathered from recycled hemp seed biomass.
Rice Protein has been shown to significantly increase total hair volume by up to 32%. It also adds natural shine and highlights to the hair. By increasing the ability of the hair and skin to bind moisture, it leads to increased flexibility and tensile strength. It is extracted from sustainable, non-GMO rice bran.
Barley Protein increases hair strength and defends against heat damage, providing complete thermal protection. It has a high proline content, known for strong antioxidant properties. 


Ingredients: AQUA, ALOE BARBADENSIS JUICE, HYDROGENATED ETHYLHEXYL OLIVATE, HYDROGENATED OLIVE OIL UNSAPONIFIABLES, HYDROLYZED BARLEY PROTEIN, BEHENTRIMONIUM METHOSULFATE (AND) CETYL ALCOHOL, HYDROLYZED ADANSONIA DIGITATA (BAOBAB) SEED EXTRACT, BEHENTRIMONIUM METHOSULFATE (AND) CETYL ALCOHOL (AND) BUTYLENE GLYCOL, CAPRYLIC/CAPRIC TRIGLYCERIDE, HYDROLYZED CANNABIS SATIVA (HEMP) SEED EXTRACT, WHEAT AMINO ACIDS, SOY AMINO ACIDS, ARGININE HCL, SERINE, THREONINE,CERATONIA SILIQUA (CAROB) SEED EXTRACT, HYDROLYZED SOY PROTEIN, ZEA MAYS (CORN) STARCH, HYDROLYZED OATS, HYDROLYZED RICE PROTEIN, FRAGRANCE OIL (PARABEN-FREE, PHTHALATE-FREE, FORMALDEHYDE-FREE), PHENOXYETHANOL (AND) CAPRYLYL GLYCOL (AND) SORBIC ACID, CITRUS BERGAMIA (BERGAMOT) ESSENTIAL OIL, RICINUS COMMUNIS (CASTOR) SEED OIL, CITRIC ACID, SODIUM PHYTATE.
Conditioning Protein Treatment comes in an aluminum bottle. The pump dispenser is plastic. 
If dropped, the bottle may dent, but will not shatter. 
The bottle may be slippery when wet.
The tip of the pump may be considered as sharp by some.
To order a refill, simply select "refill" in the choice dropdown.
Hold on to your dispenser. 
We will send you an 8 oz aluminum bottle with an aluminum lid.
Preserved with a non-toxic, paraben-free, formaldehyde-free, phthalate-free preservation system.
Use within 6 months of opening. 
Pump water through your pump dispenser to clear out the product.
Keep your pump and order a refill in the choice dropdown. 
Remove label(s) and place in the trash.  
Wash out any residue in the aluminum bullet with soap.   
Place the aluminum bullet in aluminum recycling.
✔️ Cruelty-free; Never tested on animals.
✔️ Non-toxic
✔️ Mica + Titanium Dioxide-free 
✔️ Artificial Color-free
✔️ Naturally-derived
✔️ Low-impact
✔️ Refillable
✔️ Made in small batches
✔️ Biodegradable
✔️ Paraben-Free
✔️ Phthalate-Free
✔️ Formaldehyde-free
✔️ Sulfate Free
✔️ Silicone Free
✔️ Petroleum-free
✔️ Ethanol-free (drying alcohols) 
Orders typically ship within 3-5 business days, unless otherwise noted. 
See our shipping policy here for more information. 
This statement has not been evaluated by the Food and Drug Administration. This product is not intended to diagnose, treat, cure, or prevent any disease. If you have any irritations in response to using these products, stop immediately, and see a medical professional to determine if you have a sensitivity or allergy.